In a move that has sparked controversy, car manufacturing giant Mercedes-Benz, a division of German company Daimler AG, has opened a new technology hub in Tel Aviv. While the company touts the initiative as a means to tap into the latest auto and security technologies from Israel, critics question the decision, citing geopolitical concerns.
Daimler chairman Dieter Zetsche, at a press conference in Tel Aviv, expressed optimism about the new R&D center, emphasizing its full integration with the global network. However, concerns arise as Mercedes-Benz plants roots in Israel, a region marred by ongoing political tensions.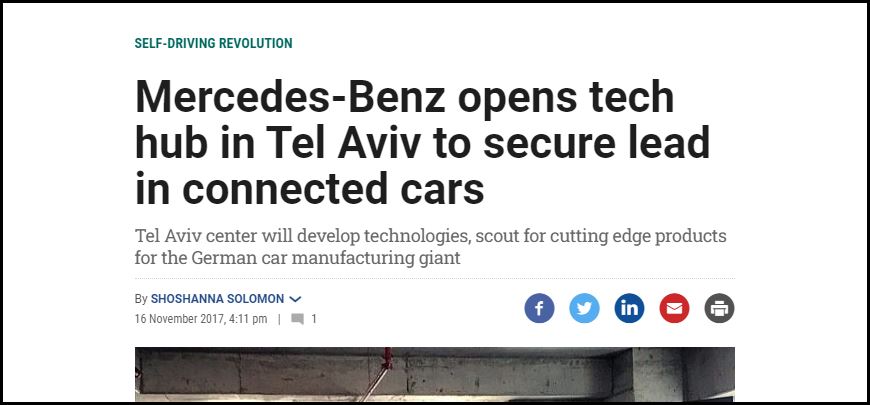 Source: https://www.timesofisrael.com/mercedes-benz-opens-tech-hub-in-tel-aviv-to-secure-lead-in-connected-cars/
Mercedes-Benz Tel Aviv Tech Center
With 25 R&D centers globally and over 16,000 employees in 11 countries, Mercedes-Benz has extended its reach into the startup nation. The Tel Aviv center, currently with only 15 workers, plans to expand to 25 by 2018, according to Adi Ofek, CEO of the Mercedes-Benz Tel Aviv Tech Center.
While the company highlights its commitment to exploring cutting-edge technologies, critics question the wisdom of establishing a hub in a region fraught with geopolitical complexities. The Tel Aviv center's focus on connectivity, autonomous vehicles, ride-sharing, and electro-mobility raises eyebrows, given the sensitive political climate surrounding the Israeli-Palestinian conflict.
See also: Car Companies that Support Israel
Zetsche's enthusiasm about the vibrant and multicultural atmosphere in Tel Aviv contrasts with concerns about potential controversies that may arise from affiliating with a region subject to international scrutiny. As Mercedes-Benz delves into the digital era, ensuring the safety and security of software becomes a critical aspect. However, the decision to establish an R&D center in Tel Aviv prompts scrutiny over the geopolitical considerations of such a move.
To explore other brands associated with Israel, you can refer to the following list of companies or utilize the Israeli Brand Search tools. These resources will assist you in identifying additional brands and their affiliations with the country of Israel.