When it comes to pickup trucks, the Ford Maverick is making waves in the automotive industry with its compact size and impressive payload capacity. One of the key features that has garnered significant attention is its bed size. The Ford Maverick, despite its smaller footprint, offers a bed that is not only functional but also surprisingly spacious.
In this article, we will delve into the description, measurement, average sizes, and even explore popular cars with both large and small bed sizes in the US to put the Ford Maverick's bed size into perspective.
Description
The Ford Maverick is a compact pickup truck that comes with a unibody construction, a departure from the traditional body-on-frame design seen in larger pickup trucks. This construction style contributes to its reduced overall size while maintaining excellent structural integrity. The Maverick is available in both front-wheel-drive and all-wheel-drive configurations and comes with two available engines: a 2.0-liter four-cylinder engine and a hybrid powertrain.
The bed of the Ford Maverick is known for its innovation. While the Maverick is smaller than most traditional pickups, its bed is designed to maximize utility. It offers various features like adjustable bed dividers, two 12-volt pre-wired electrical connections, and even a multi-position tailgate. These features make it ideal for those who need a versatile and practical truck bed without the bulk of larger trucks.
Measurement
When it comes to determining the Ford Maverick's bed size, there are three crucial dimensions to consider:
Length: The bed length refers to the distance from the bulkhead (the front of the bed, near the cab) to the tailgate. Measuring the Maverick's bed length is essential for determining the storage capacity and suitability for various cargo.
Width: The bed's width is the distance between the two inner sides of the bed. This measurement helps determine how much space is available for carrying wider items or multiple items side by side.
Height: The bed's height refers to the depth of the bed, from the bed floor to the top of the bed sides. This dimension is vital for accommodating taller cargo or stacking items.
Average Sizes
The Ford Maverick's bed size is ideal for daily chores, weekend adventures, or even light-duty work. With the compact dimensions of 4.5 feet in length, 42 inches in width, and 16 inches in height, it's well-suited for most common hauling needs. Whether you're moving furniture, carrying gardening supplies, or taking outdoor gear on a trip, the Maverick's bed offers sufficient space without the bulk of a larger pickup truck.

Ford Maverick Bed Size Accessories
Enhance your Maverick's bed with a range of accessories, such as bed liners, bed covers, and cargo management systems. Bed liners protect the bed from scratches and dings, bed covers provide security and weather protection, and cargo management systems like tie-downs and dividers help keep your items organized and secure. These accessories maximize the utility of your bed and protect your cargo.
Ford Maverick Bed Size Utilization Tips
To make the most of your Ford Maverick's bed size, consider these tips:
Use Bed Extenders: For longer items like lumber or kayaks, bed extenders can be a great addition to temporarily increase your cargo space.
Secure Loads Properly: Use the built-in tie-downs or additional tie-downs to secure your cargo safely.
Protect the Bed: Invest in a bed liner to prevent damage to the bed's surface and preserve its appearance.
Organize with Bed Dividers: Bed dividers can help you keep your cargo organized and prevent shifting during transport.
Invest in Bed Covers: If you need to protect your cargo from the elements, bed covers are essential.
Ford Maverick Bed Size FAQs
1. Can I fit a standard sheet of plywood in the Maverick's bed?
Yes, the Maverick's bed is designed to accommodate a 4×8-foot sheet of plywood with the tailgate down.
2. What is the maximum payload capacity for the Ford Maverick?
The maximum payload capacity varies based on the trim level and options, but it can range from approximately 1,500 to 2,000 pounds.
3. Can I tow with the Maverick while carrying cargo in the bed?
Yes, you can tow while carrying cargo, but make sure you don't exceed the vehicle's payload capacity.
4. Is there an option for a longer bed in the Ford Maverick?
As of my last update in September 2021, the Ford Maverick only came with one bed size. Check with your local Ford dealership for any updates or future model changes.
Trending Bed Sizes Reference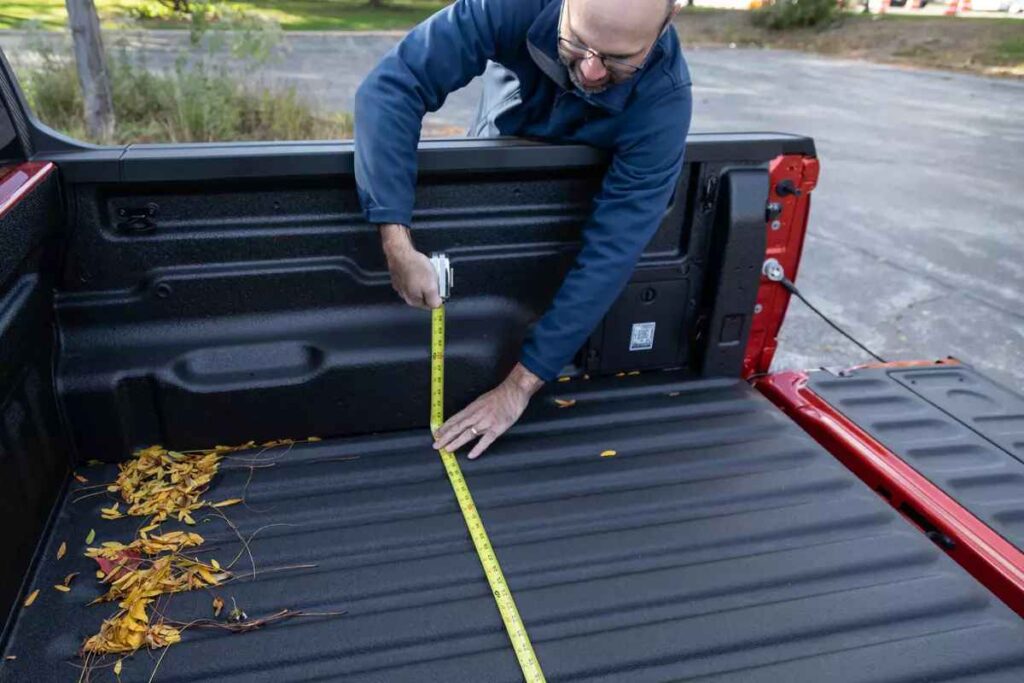 The Ford Maverick's bed size may be compact, but it's surprisingly versatile and capable of handling various tasks. Whether you need a vehicle for daily commutes or weekend adventures, the Maverick's bed size, with its approximate 4.5-foot length, 42-inch width, and 16-inch height, provides a reliable and convenient cargo space.
With a variety of accessories and smart utilization tips, you can make the most of this unibody compact pickup's impressive payload capacity, making it an excellent choice for those seeking a versatile vehicle that balances size and functionality.